Anyone who has interest in writing poems is free to join.
The fortnight poetry game is a haiku poem consists of three lines, with the first and last line of a Haiku have 5 syllables and the middle line has 7 syllables. Participant are expected to submit a poem based on the fortnight poetry image posted. A winner emerge on the last friday of the second week. Prize is given out to this winner and the haiku poem will be published on the homepage.
Check example below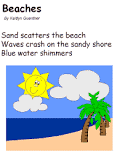 Quarterly Poetry Competition is a contest organised by Naija Poetry, it's a quartely contest spanning from Quarter 1 to Quarter 4. The first quarter (Q1) opens on 16th of January, 2017. Particpant are to submit their orginal writings for this competiton after paying a poetry due.
The 4 stages are listed below:
Stage 1 - Sign Up: Registration, payment of poetry due and submission of poems for quartely poetry competition.
Stage 2 - Most Rated: Poems are rated by registered poets. The system automatically select the most rated poems for stage 3.
Stage 3 - Finalist: The most rated poems are reviewed. Judges select and publish finalist poets for stage 4.
Stage 4 - Winner: Winner and runner up notification. Prize and Awards presentation.